I took all my images in my mesh bag. I think I bought these in a local cross stitch store.
I also took some Unity Stamp images. These are very unusual stamps that I think are very fun!! Can't wait to make these into cards.
Doesn't everyone have a toilet stamp??
This cutie is from a My Favorite Things set.
Now this next imagine is up for debate. I was trying to create a striped cat.....I think it is a fail! LOL
I was so convinced I could make a striped cat, I tried twice. Yea! or Nay?
One of my favorite images done in the dots is the alligator. I think he turned out perfectly! I dotted with a light color, then went dark, then tried out a medium shade. Then I would go back and add more colors where needed. For some images, I used 5-6 colors. For others I used just 3 colors.
I think trees turn out really nice using this technique.
Have you tried the dotted technique to color? I think it works great on animals and trees. I even worked on some more images once I got home! It is very addicting. Leave me a comment: what are your thoughts on the dotted coloring?

Lawn Fawn - Clear Acrylic Stamps - Critters in the Jungle

Lawn Fawn - Clear Acrylic Stamps - Critters Ever After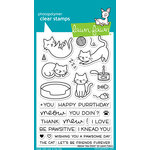 Lawn Fawn - Clear Acrylic Stamps - Meow You Doin'

Lawn Fawn - Clear Acrylic Stamps - Hang in There

Lawn Fawn - Clear Acrylic Stamps - Critters from the Past

Lawn Fawn - Clear Acrylic Stamps - Critters in the Burbs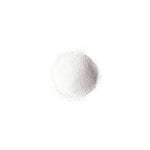 Hero Arts - Embossing Powder - Clear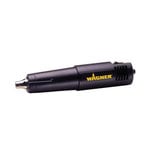 Hero Arts - Wagner - HT400 Precision Heat Tool